There are no products matching the selection.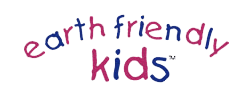 Philosophy:
Earth Friendly Kids is from the same company as Earth Friendly Baby. Gentle affordable products, without the chemical nasties, and with added fun! The Earth Friendly Kids range matches all those criteria.

History and Origin:
From the lovely people behind the immensely popular Earth Friendly Baby range, the Earth Friendly Kids range was launched in 2007, offering the same level of gentleness and affordability but with the help of some really cool earth friendly superkids; Cosmo, Sophie, Leo, Daya & Spiro the super dog! Earth Friendly Kids is suitable for children who are a bit too big for "babyish" toiletries.
The Earth Friendly Kids products come in two great fragrances; fresh & fun Zingy Citrus and cool & relaxing Minty Lavender of Body Wash, Bubble Bath, Hand Wash, and Body Lotion. There are also the brilliant Biodegradable Kids Wipes which are perfect for sticky hands and toddler training, the range is sure to be as well loved as the amazing Earth Friendly Baby.

Why We Chose Them:
We always have loved the cool nature of the Earth Friendly Baby range, and with the super hero's Earth Friendly Kids couldn't go far wrong. Fun, fun, fun!

Who Would Like Them?
Kids who clearly aren't babies any more...we all know who they are!!

Certifications:

Personal / Press Recommendations:
'Spiro is my favourite, cool. ' London, August 2008