With the bulbs shooting up in the garden and a few days of sunshine there is definitely the sense that spring is on the way. It's the perfect time to think about updating your makeup, to a fresher faced spring look and the new make up just in from Lavera has a number of new products that make it simple.
The new Lavera Natural Mousse Blush is absolutely gorgeous. It's feather light texture means that you can apply just a hint of colour exactly where you need it and it's perfect to keep in your handbag for top ups on the go. The classic nude shade is sure to be a best seller as it would suit anyone.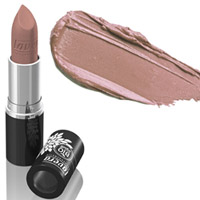 To make a amends for discontinuing some of our favourite an best selling shades (why do they always do that!) there are 6 new organic lipstick shades including a couple of super wearable nude shades that are perfect for everyday wear.
Our favourites are Casual Nude and Tender Taupe, as well as the questionably named; Modern Camel. We thought that might have been a typo and the shade was modern caramel, but no, Modern Camel is the name they actually chose! If you can get past the name, the shade is a really lovely brown.
Eye shadow solos have been updated with 3 new shades, and for the first time a cream eye shadow has been introduced to the range in Gleaming Gold and Soul Plum. The Airy-light texture makes application a cinch. The eye cream melts effortlessly onto the skin yet provides intense colour for the eyes.
And the pièce de résistance must be the new Lavera Front Row Curl Mascara. With a specially designed wand and flexible vegan formula that allows you to gentle curl your lashes to dramatic effect without the need to use a separate eyelash curler. We predict that this is going to be a new best seller.


If the products themselves aren't temptation enough, try them out this weekend and we'll send you free mini product plus extra samples with your order when you spend £20+ on makeup.
It will be a lucky dip, we have free mini products for face and body from Dr Hauschka, Lavera and Madara and they will be allocated randomly.
Go on treat yourself, you deserve it!