We're so excited about these miniature bottles of nail polish from Orly. There are loads of great colours that are bang on trend and at only £5.90 a pop it's really hard to exercise restraint when picking a favourite.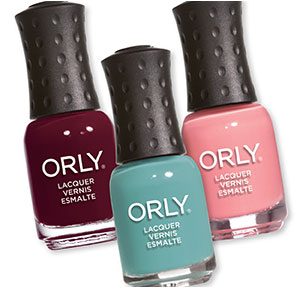 Unfortunately, there's currently no such thing as an organic nail polish. The ingredients needed to make the nail varnish stay on the nail just aren't available from organic sources, and the water based nail polishes we've tried are to put it bluntly, absolutely useless!
A product must first and foremost do what it's supposed to, so nail polish that gives poor coverage or chips off in moments is not worth buying.
No such problems with Orly nail polish. The brand excludes the main undesirable ingredients usually found in nail polish, namely formaldehyde, DBP and toluene and it works beautifully. Coverage is excellent and applied properly with a suitable base and top coat we've found that Orly nail polish really lasts.

Although for professional use the large bottles offer the best value, we think that Orly minis are definitely the way to go for use at home. They are really great value so there's no need to restrict yourself to just one colour and there's plenty in these small bottles for the average home user. After all when did you ever get to the end of a bottle of nail varnish?
Take a look at the full range and "like" or "share" your favourites so we can see your favourites.