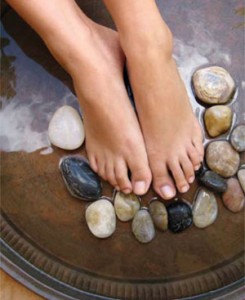 We've all put a foot in it from time to time - but if you're going to embarrass the pants off yourself wouldn't you rather do it with pretty feet?

Now I've never been proud of showing off my feet. In fact I find feet a little hard to tolerate at times - mine or anyone elses. But I have noticed the kinder (in attitude) and more caring (in polishing) I am to my curly toed feet, the happier I am to let them out into the world for a walk in the open air.

Here are a few tips on how to get a lovely pair of walkers so that, like me, you'll be brave to bare.
1. Soak your feet in warm oil with a few drops of your favourite bath oil. The Kneipp Stress Free Herbal Bath is a gorgeous oil with an uplifting mandarin and organic fragrance that will help to soften and restore tired, hard feet. Soaking will help to ease the removal of polish and grit between the toes that you may not catch with soap in the shower.

2. Scrub Scrub Scrub for smooth dry and cracked heels. Tropical Bergamot Body Scrub by Organic Surge is excellent for removing dead skin cells. An added bonus - it helps to stimulate the circulation to the feet.

3. Look after your cuticles by pushing back the dead skin that has accumulated in the corners of and under your toenails. With the edge of a nail file and a little Badger Balm Cuticle Care; this is quite easy and rewarding as your toes look like they've had an instant pedicure.

4. Massage with a little intensive moisturiser every night and you're sure to notice the difference in foot loveliness within the week. The best organic foot specific creams we know are the Hydrating Foot Cream by Dr Hauschka, the Reviving Foot Balm by Bentley Organic, the Basis Foot Cream by Lavera and the Foot Balm by Badger.

Buy organic over conventional products for the feet is better for the environment also because of the lack of petro-chemical (oil) based pesticides used to grow ingredients in non-organic products. Reducing your footprint and beautifying your feet naturally - now that's gotta give your feet a nice touch of fineness indeed!

Treat yourself to some new home pedicure products and when you spend £20 or more on anything in our hand and foot department (handwash, foot cream, nail oil, nail polish etc). We include a small pot of the delightful Kneipp Foot Repair Balm completely FREE. Better be quick, its only while stocks last.