Top tips for keeping your hands and nails in beautiful condition... naturally.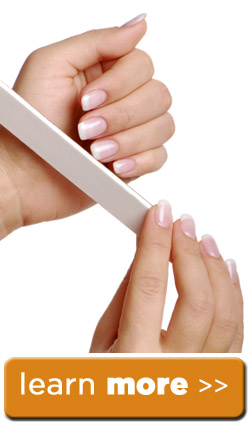 We use them all the time, but many of us fail to give our hands any sort of care and attention at all. We lovingly slather on the lotions and potions to keep our faces young and beautiful, protect them from the sun and dutifully use our scrubs and masks. But how often do we give our hands the same care? Make time for a little bit of home hand care and it will really pay dividends.
Little and often
It doesn't have to be complicated, buy a few tubes of organic hand cream and leave them in strategic places; your desk, handbag, next to the sink and then just apply a little bit each time you notice the tube! It will pay off and in no time at all your hands will be looking better, feeling softer and you'll be well on the way to improving your nails too.
Intense moisture hit
At the very least keep a really rich organic hand cream or hand balm next to your bed and apply some each night before going to sleep. That way your hands will get a little care at least once a day.
File sparingly
Files your nails little and often with a gentle glass file or emery board (never use a metal file they're just too harsh). Keep several around the house and in your desk and hand bag so that the minute you feel a snag or rough edge you can smooth it out properly rather than resorting to nibbling!
Scrub until smooth
Exfoliate your hands one or twice a week, pour about a teaspoonful of salt into the palm of your hand, mix in a little oil (either plain vegetable oil or your favourite body oil, either will do) and massage it all together. Rub over the backs of your hands and between the fingers as well as over the palms. Massage around the finger tips too (avoiding any cuts of course as it will sting) as this will help with softening and loosening your cuticles
Cuticle Care
If you care for your hands regularly, you'll find that the cuticles stay looking great without much effort. If you do anything to them at all, simply massage in a few drops of cuticle oil and use an orange wood stick to gently push them back. Steer clear of tools to cut and clip your cuticles, leave that to the professionals as you risk introducing infections and damaging your nail bed if you get it wrong.
Limit polish
There's no such thing as totally natural nail varnish. In my experience water based ones don't work and for me unless a product does its job properly there's no point using it. The most natural finish for your nails is to gently buff them to a natural shine, which on well cared for nails looks like a beautiful French polish. If you must use nail varnish then go for one that is as free from nasties as possible, Orly is a good professional quality one which is 3 free (i.e. Free from DBP, Formaldehyde and Toluene). It gives a really long lasting professional finish. We have just added the Benecos Natural Nail Polish to our range too; these have a 5 free formula which means they don't contain DBP, Formaldehyde, Toluene, Camphor or Colophony.
Home manicure essentials.
Skin Blossom Rose Geranium Hand Cream £5.95 for 75ml
Dr Hauschka Neem Nail Oil £16.25
Badger Balm Cuticle Care Balm £4.99 for 21g
Orly Nail Varnish £5.60 for 5.3ml or £10.50 for 18ml
Visit us online for all your organic beauty treats. For expert beauty advice call me and my team of products specialists on 0800 169 2579 or email us with your questions.